ASUW SHC
Student Insurance
[To all students and student orgs]
A student-led team from the School of Public Health, in conjunction with Hall Health, is collecting information about student health care and health insurance at the University of Washington, Seattle Campus. We are hoping you will send this survey out to your constituents to help us in this effort. It is integral that we receive enough responses to make the survey relevant as the results have the potential to inform policy-making decisions in the future. By helping us reach as many students as possible increases our chances of compiling representative data about students at UW and their needs in relation to health insurance. Please note that this survey and any information derived from it is not representative of the University of Washington administration.
Answers will remain anonymous and confidential. At the end of the survey, everyone will have a chance to provide their email address to be entered to win from multiple drawings. We will be raffling off a $100 Amazon Gift Card (x1), $50 Amazon Gift Cards (x4), and $20 UW Bookstore Gift Cards (x2). Email address and survey data will not be connected.
To access the survey, please follow this link: http://tinyurl.com/studenthealthsurvey2017
We are looking to get the survey out this week and it will run until the end of the month. Winners of the raffle prizes will be drawn at the end of the month, once the survey has closed.
Please let us know if you have any questions. We can be reached at the emails on this message or at student.health2017@gmail.com.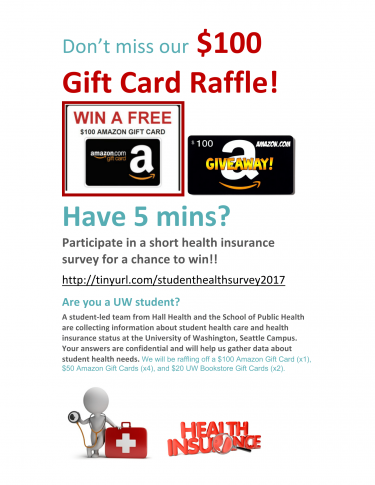 Thank you in advance for your help!