ASUW SHC
Mental Health Awareness Month 2019
*information on May Mental Health Awareness Month 2019 coming soon*
May is Mental Health Awareness Month 2017
Facebook Event Link: https://www.facebook.com/events/440505826284789/
ASUW Student Health Consortium presents… Mental Health Awareness Month 2017! Did you know that #1in4Huskies have been diagnosed with a mental illness? Let's talk about how to take care of yourself, how to support a friend, and how to challenge the stigma surrounding mental illness. #1in4Huskies #StopTheStigma
Student Talk: Embracing Positivity and Possibility to Improve Your Life
[Event "Student Talk" has been cancelled]
Uniting Voices: Mental Health Conference
Uniting Voices: Mental Health Conference,on May 6th, 2017, at Alder's Commons from 10 am – 3:30 pm, aims to develop greater awareness of mental health issues and empower attendees to combat the surrounding stigma.
The conference will feature Phil Borges, director of documentary CRAZYWISE, and Elaine Walsh, PhD, RN, PMHCNS-BC as keynote speakers. UW students will speak on a panel about their experiences with different mental illnesses to show the real-life implications of the discussed topics. Flanking the student panel section will be six discussion-based workshops:
Gail P- Psychiatric Abuse
Ann Vander Stoep Ph.D.- Mental Health in Public Health
Marcie Klevens MA, LMHCA- The Hearing Voices Movement
Shira Rosen MSW- Community, Education, and Suicide
Tabitha Kirkland Ph.D.- Positive Psychology: Resilience, Coping, Mindfulness
Disability Rights Washington- Using Social Media to Impact System Change and Undermine Stigma
RSVP Here
Hosted by: Active Minds
Date: Sat, May 6th
Time: 10 AM – 3:30 PM (Check in: 9:30am)
Location: Alder Commons
Note: Food will be provided
Healing Through the Arts
Event Link: https://www.facebook.com/events/290094544769255/
Hosted by: ASUW SHC
Date: Wed, May 10th
Time: 7-9PM
Location: Alder Commons
DE-STRESS in Sylvan Grove
***NOTE, THE PREVIOUS DATE OF THE 16TH WAS INCORRECT***
Hosted by: ASUW SHC & UW Mindfulness
Date: Weds, May 17th
Time: 4-6 PM
Location: UW Sylvan Grove Theater and Columns
Intersections of Identity and Mental Health
Hosted by: Minority Association of Pre-Health Students
Date: Thurs, May 18th
Time: 6 – 8 PM
Location: Ethnic Cultural Center Native Room
H3 Walk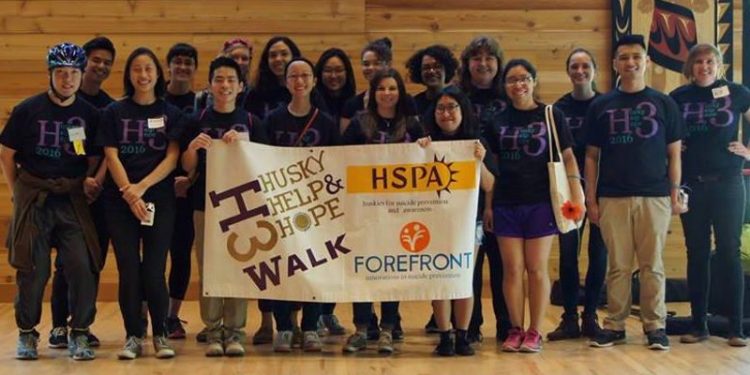 On May 20th, Huskies for Suicide Prevention & Awareness (HSPA) and Forefront is hosting their Husky Help and Hope Walk (H3 Walk), which is a campus and community-wide event commemorating lives lost to suicide, offering support and solidarity for suicide survivors, and taking apart the social stigma around mental health and mental illness.
Join the SHC Team! https://h3walk2017_hspa-forefront.eventbrite.com?team_token=1835520-q9q2n
Hosted by: Huskies for Suicide Prevention and Awareness
Date: Sat, May 20th
Time: 11AM – 2PM
Location: UW Sylvan Grove Theater and Columns
CorePower Yoga: Mindfulness Morning
Hosted by: CorePower Yoga
Date: Wed, May 24th
Time: 10 – 11AM
Location: HUB Lawn
Let's Talk from the Counseling Center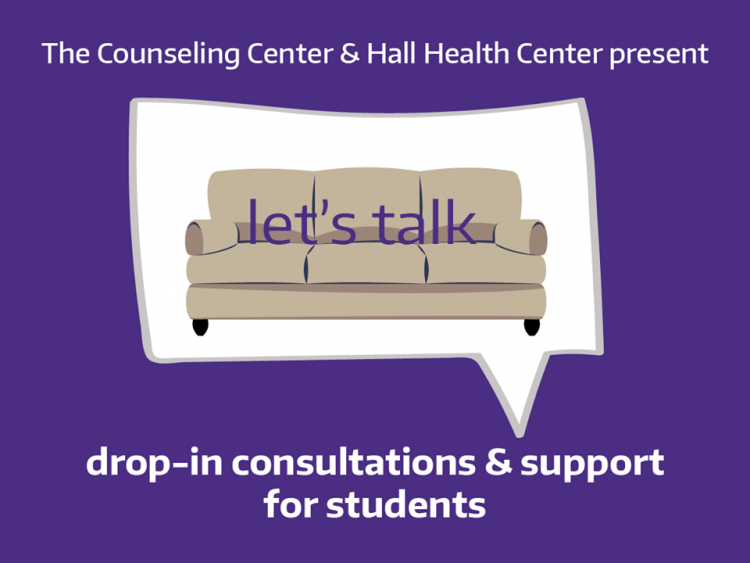 Learn more about Let's Talk's model of providing free, informal consultations to students: washington.edu/counseling/services/lets-talk
Hosted by: UW Counseling Center
Date: Tues, Wed
Time: 2 – 4PM
Location: Ethnic Cultural Center (Tues), Q Center (Wed)
Community Events
API Cares: APA Mental Health Month

What is intergenerational trauma? How is nutrition and mental health linked in the Pacific Islander community? How can we use music and creativity to cope? How can we be an ally?
During the month of May, API Cares will be answering and delving into these questions by hosting a series of events in recognition of both Mental Health Awareness month as well as Asian Pacific American Heritage month.
May 1st (Monday): Intergenerational Trauma w/ Prof. Norma Timbang https://www.facebook.com/events/202571426916569/
May 2nd (Tuesday): Desexualization of API Women https://www.facebook.com/events/177184286137462/
May 8th (Monday): Decolonizing Nutrition & Fitness w/ Dr. Ka'imi Sinclair https://www.facebook.com/events/298357123911233/
May 13th (Saturday): Micronesia Night https://www.facebook.com/events/1300895169948275
May 15th (Monday): Suicide Prevention Training
May 20th (Saturday): HSPA Suicide Prevention Walk https://tinyurl.com/17APICARESHSPAWALK
If you'd like to get more involved with API Cares as a volunteer, take part in leadership, or just represent our organization and cause with swag, check the links below!
Volunteer: https://goo.gl/forms/DQNudIhCclCLNk9w1
2017-18 Offier Application: https://goo.gl/forms/kdUIgGCxvVIM4ovi2
Clothing Pre-Sales: https://goo.gl/forms/Aq9THNizClUyhZir2
UW Recreation
We are hosting two events that we would love for you all to be at!
The first is our Point of the Game: Social Justice and Recreation Roundtable Discussion! It will be on Wednesday, May 10th from 12-1pm in IMA 246. There will be great conversation and FREE PIZZA! In recognition of Mental Health Awareness Month, this month's topic is athletes and mental health. Please come and contribute your input and ideas– we'd love to hear from you!
The second is a Sushi Rolling event on Thursday, May 11th from 6-8pm in the IMA Lounge. The poster is attached!
Hope to see you all there!