ASUW SHC
March 28, 2012
Super Foods to the Rescue
The cherry blossoms may be in bloom, but Seattle's still stuck in its winter gloom. If you have yet to emerge from your bear-like hibernation and are getting tired of those sugar-laden baked goods (I'm looking at you, banana bread), perhaps a new type of dessert is in order. Incorporating so-called super foods into your diet may be the best way of boosting your energy in anticipation of a new season and a new quarter. All of foods featured in these recipes are packed with nutrients and make for a healthy and unique way to satisfy your sweet tooth. 
Oatmeal-Raisin Cookie Larabars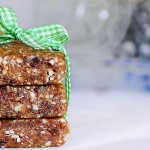 With high antioxidant levels, lots of vitamin E, and healthy fats, walnuts make an excellent addition to your diet. When combined with high-fiber oatmeal, a potent snack is created.
Makes 3 bars
1/2 cup raisins
6 T quick oats
1/2 cup walnuts
1/8 tsp plus 1/16 tsp salt
1/4 tsp pure vanilla extract
Pulverize the oats in a food processor, then add all other ingredients and blend very well. Form into balls or bars. (If you want, you can portion the dough into plastic bags before smushing the bars, so your hands don't get sticky.)
Blueberry Pie Pancakes
The anti-inflammatory properties of blueberries make them wonderful preventers of cancer and heart disease. Is there a better way to start the day? I think not.
Serves 1
1/2 cup blueberries
1/3 cup flour (ww pastry, white, spelt, Bob's gluten-free, etc.)
2 T rolled oats
1/2 tsp cinnamon
2/3 tsp baking powder
1/8 tsp salt
1/2 tsp pure vanilla extract
1 T sugar or 1 packet stevia (omit if you don't want sweet pancakes)
1/3 cup milk of choice
Unless you like the taste of fat-free pancakes, add 1 T oil and reduce milk by that amount.
Combine dry ingredients in a bowl, then add wet. Mix, but don't overmix. Cook on an oiled (or sprayed) pan, on low-medium, flipping each pancake once.
Spinach Ice Cream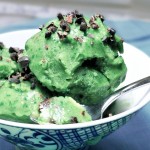 Don't be frightened by the idea: the flavor of the spinach is easily masked by the strong taste of mint. Plus, adding spinach to ice cream turns a normally rich dessert into a dish containing the green's laundry list of nutrients: carotenoids, antioxidants, vitamin K, and more.
2 frozen bananas, as ripe as possible
2-3 drops pure peppermint extract
scant 1/16th tsp salt
1/4 cup or more frozen spinach (I used 40g) (If you don't like spinach, you can sub food coloring or omit completely.)
scant 2T non-dairy milk (I used almond milk)
chocolate chips or cacao nibs
Blend everything together in a blender. Use an ice-cream scoop for authentic-looking ice cream.
Dark Chocolate Avocado Mousse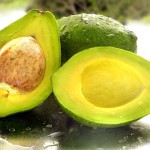 Don't think that avocados are only fitting for guacamole. Filled with healthy fats, they make excellent bases for a rich chocolate mousse.
Serves 1
1 ripe avocado, skin and pit removed
3 1/2 tablespoons dark chocolate cocoa powder
3 1/2 tablespoons honey
Combine in food processor.
Source: Chocolate Covered Katie